Hand Painted Removable Murals
There are many benefits to hand painted removable murals.
Perhaps you want to create a keepsake that can be handed down to other generations.
Or maybe you would like to move in the next few years, but hate the idea of leaving your creation behind.
Or maybe you are just reluctant to put the paintbrush to the wall.
Hand painted removable murals are a great solution. And believe it or not, painting canvas and fabric murals requires only a little more effort than traditional wall murals.
Material Selection
The first step is to select the type of fabric you want to use: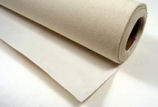 1.
Pre-primed canvas.
Pre-primed canvas can be applied directly to the wall and then painted. You can also purchase it stretched on a canvas frame (or stretch it yourself), paint it, and then apply to your wall surface. And that leads us to the next option...
2. Unprimed canvas. Unprimed canvas must first be stretched on a canvas frame and then primed before it is painted or applied to the wall.
3. Other fabrics. You can also use cotton fabrics or tightly woven linens. For example, cambric cloth is a thin, tightly woven linen fabric with a smooth surface that is ideal for painting. It is not necessary to stretch cambric cloth – instead, it can be laid on a flat work surface and then painted.
Painting Tips
Painting on fabric is actually very similar to painting on walls. For the most part, you can follow the guidelines presented in our page about painting wall murals.
You can use acrylic paints and you can use the same methods for transferring your image. However, canvas murals should always be sealed with a couple coats of polyurethane.
Installation Options
The primary difference between traditional murals and removable murals is that you will need to apply the canvas or fabric to your wall surface.
To install hand painted removable murals, you will need to use either a type of glue specially formulated for this type project or wallpaper paste. If you use glue, the most popular type is Jade Glue, a white glue that can be found at most art supply stores and can be thinned slightly for easier application. If you use wallpaper paste, you may want to consult a professional wallpaper hanger to find out which paste is recommended for your fabric type and wall surface.
Another good option is to install grommets in the corner of the mural and hang it with decorative hardware, instead of actually gluing the mural to the wall.
Removal Tips
When it is time to remove your wall mural, first try dampening the cloth to soften the paste. If necessary, you may also want to apply a wallpaper stripper, such as Dif, to help loosen the bond. Work slowly and your mural should come down. Make sure it is completely dry before it is stored.