Paint by Number Murals
Like Brownies from a Box Mix!
Yes, you read that right! Paint by number murals really are like brownies from a box mix…quick and easy, with homemade results – and inexpensive too!
The Main Ingredients are Included
You won't need to supply the eggs and oil, but with paint by number murals you may need to purchase your own paints and brushes.
If the paints are not included with the kit, the manufacturer will include a suggested list of paint colors. However, the final color choices will be left to your discretion (and your decor!).
Most manufacturers recommend using acrylic craft paints, which are inexpensive and can be purchased at your local hobby store.
Click here to read more about choosing the right brushes and paints for paint by number murals.
Quick and Easy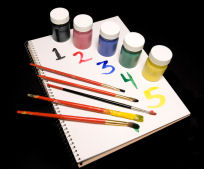 Creating wall murals from scratch may quickly leave you overwhelmed. You have to do a lot of homework before you even put a paintbrush to the wall – from finding an art piece to picking a transfer method to selecting the right colors. With paint by number murals you can avoid these headaches. You will have an easy to paint art piece with the right amount of detail that is easily transferred to the wall.
Most paint by number kits come with a pattern that is backed with transfer paper (similar to carbon paper). After choosing the location of the mural, the pattern is hung on the wall with masking tape. The pattern is traced with a sharp pencil or pen, so that the image is transferred to the wall. The pattern is removed, revealing the wall mural's outline. The pattern is then filled in using the manufacturer's suggested paint colors or colors of your choice.
Almost Homemade
Just as brownie mixes can be jazzed up with a few extra special ingredients, so can paint by number wall murals!
If the mural is not the right size for your space, play with it a little. For example, if it is too large for your space, leave out a few elements from the pattern or tape the pattern with the middle in a corner of the room, so that the mural is spread over two walls. Too small? Many patterns can be reused – so go ahead, reuse some of the elements to make it bigger. Some manufacturers even offer different sizes of the same pattern, so you can choose what works best for your wall.
If you don't like the colors suggested by the manufacturer, use your own. Or personalize the mural by adding a favorite phrase or child's name, either by hand painting or using rub on transfers. Some manufacturers even include this type of personalization with the pattern for a small additional cost.
Kids Love Them…And So Do Adults!
Because of their simple patterns and bright, fun colors, paint by number murals are especially popular for kids' bedrooms and play rooms. From garden themes to baseball diamonds to jungle animals, you should have no problem finding paint by number murals that will enhance your child's room theme or spark your little one's imagination.
But, just as brownies are not just for kids, nor are paint by number murals. If you are looking for something with a little more grown-up flair, don't fret - there are also paint by number kits designed with you in mind.
Overall, paint by number murals are an excellent option for just about anyone. They offer a homemade look with a do it yourself price tag. Expect to spend less than $100 and be able complete your project in a weekend.
Where to Purchase
There are several online retailers that sell paint by number murals for reasonable prices.
Elephants on the Wall designs and produces do-it-yourself paint by number wall murals for kids' rooms. These easy to do murals are perfect for the "artistically challenged". Simply TAPE, TRACE & PAINT. The hardest part is to choose between all of the fun & whimsical designs!
Visit Bug on a Wall for full-size paint by number kids' murals - just cut, trace, paint and enjoy! While you are there, make sure you check out the custom name and monogram murals - a great way to add an extra special touch to your little one's room!
You may also be able to purchase paint by number murals at your local craft or hobby store. Some specialty home furnishing stores also carry them.