Tips and Ideas for Children's Murals
Pull out the brushes and the paint - children's murals are fun and easy!
Because kids spend so much time in their rooms, it only makes sense to decorate their rooms to reflect their personal tastes - what better way to do that than with wall murals!
Choosing the Perfect Theme for Children's Murals
Whether your child is 4 or 14, he or she should be included in all aspects of the mural project. The first and, in many cases, the most difficult step, is to select a theme.
If your child decides on a theme that you like and believe to be "do-able", consider yourself lucky! However, it is unlikely that your child's taste in home decorating will mirror your own. Perhaps you are envisioning a garden mural in your daughter's room, but she can't seem to think of anything else but SpongeBob. Don't throw in the towel just yet!
A good way to approach this situation is to do your homework before asking your child's opinion. Pick out 3-5 potential mural themes you think your child will like, and let her pick her favorite. It's a win-win situation - you maintain control over the process, and at the same time, allow your child to make the final decision.
Selecting Art for Children's Murals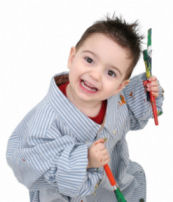 After selecting a theme for the wall mural, you will need to find an image that you can transfer to the wall. There are several places that you can look for an image.
To get started, take a peek at some of my favorite art for kids, including prints by Sophie Harding, Simon Hart, and Yuko Lau.
Take a look around your child's room. Look at her bedding and curtains. Does she have any framed art or posters? Is there anything you can use?
If you come up short in her room, expand your search. Look through her coloring books and picture books. Pull out that box of greeting cards gathering dust in the closet.
There are also a number of online resources for children's murals - clipart, coloring book printables, and stock photos and images.
Better yet, why not let your child's own artwork take center stage? Like me, you probably have a stash of original art drawn by your little Picasso. Take a quick look – you may find something that you can use as a mural.
One of my favorite children's murals was actually taken from an original drawing by a first grader. He loved spaceships and astronauts, so when his mother decided to put up a mural in his room, he drew some pictures to give her ideas. She decided to use his drawings as the basis for the mural, and simply transferred his pictures to his bedroom walls using a projector. The mural turned out great, and I'm sure the little boy was pleased as well!
Time to Roll Up Your Sleeves!
Once you find an image that you want to use, you will need to transfer it to the wall. The simplest method of transferring kids' murals to the wall is by using the projector method mentioned above. However, it's not the only way – check out our
transfer techniques
for other alternatives.
If possible, you should also involve your child in the actual project itself. If you are not ready to hand her a paintbrush, there are other ways to include her. For example, if you plan to use a coloring book page for your inspiration piece, have your child color it, and then take her with you to the store to pick out the paint, using the colored picture as a guideline for selecting the colors.
But wait, before you make that trip to the store, make sure you take a look at my tips for painting wall murals. There you will find information to help you select the right paints and brushes, as well as suggestions for protecting children's murals once finished.
Helpful Products for Creating Great Children's Murals
Children's murals can also be enhanced with wallpaper cutouts or self-adhesive wall stickers. They can help fill in any blank spots or tie in blank walls with the chosen theme. Many of the products are simple enough for school age children to use.
Wallies
, for example, come in many styles - butterflies, sports balls, flip flops, flowers and stars (to name just a few!) - and are easily applied with a little water.
Take some time to look at our Wall Murals Products Guide for other items that will simplify children's murals, including paint by number murals and more!
And last but not least - remember that preparation, cooperation, and compromise are the key ingredients to creating great children's murals in your home, ones that both you and your kids will love showing off for years to come!
Theme Ideas for Children's Murals
Realistic looking painted clouds, whether used alone or as the background for a theme mural, are a great way to bring the outdoors in. Learn how to paint sky murals with these simple, step by step instructions.
Whether your child is just starting Little League or is the star of the high school basketball team, you will want to check out our page about sports murals. From team logos to catchy phrases, you will find lots of good ideas.
Learn the A-B-C's of painting alphabet murals, including an easy and inexpensive idea for creating your own using a pattern and carbon paper.
Lions and tigers and bears - oh my! Circus murals are a fun way to decorate a baby nursery or child's room. Learn more, including how to paint the perfect background for circus murals - red and white vertical tent stripes!

Chalkboard paint is a great way to add an interactive and creative aspect to kids' murals. Learn more, including how to make your own chalkboard paint in any color you want!
Do you have a little guy or girl that love trains? This page about train murals is loaded with ideas, including resources for Thomas the Tank Engine printables
Kids love ocean mural themes! Not only do they look great in playrooms, bedrooms, and bathrooms, but they are gender neutral too - good for both little guys and little gals!