Looking for Ocean Mural Ideas?
An ocean mural is an appropriate choice for just about any room, from gender-neutral playrooms and bedrooms to bathrooms and more.
It's hard to pinpoint just one reason for their popularity...
Perhaps blame lies with that cute little Disney clownfish named Nemo - or his storybook sidekick, Rainbow Fish. Maybe it is because the ocean shore is our favorite retreat - and we want to re-create our favorite get away destination at home.
Whatever the reason, the good news is that there are many options for anyone looking to include an ocean wall mural in their home. Following are some easy ideas to get you started on this fun project...
Background Ideas
This may seem like a no-brainer. The perfect background for an ocean mural theme is a wall painted the perfect shade of ocean blue!
However, how about taking it one step further, by adding depth and dimension using the colorwashing technique. It takes just a little more effort and time, but you will love the results!
What's at the bottom of the ocean? Sand, rocks, seaweed, the ocean floor - right? In addition to painting a watery world for your sea creatures, consider painting a sand-colored base. Again, you may want to employ a common decorative painting technique, sponge painting, to bring dimension and texture to your project.
Foreground Ideas
Because ocean murals are so popular, you really do have a lot of options when it comes to creating the foreground, whether you want to do it yourself or save time by using store bought accents.
First, we will tackle the do it yourself options...
One easy way to do this is to select some simple pictures or clipart of sea life. This can include fish, seaweed and plants, coral, shells, and other ocean critters.
Enlarge or reduce the selected pictures to a size that works for your mural, and then use graphite paper to tansfer the artwork to the walls. Using acrylic paints or even paint markers, color in the designs. Alternatively, you can use an overhead projector to transfer the images to your work surface.
The good thing about using this method is you can slowly add to it over time. Start out with with a few little fish swimming around, and then as time allows, add other elements.
Now, on to the store bought options...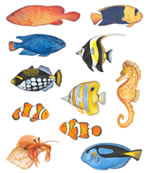 Rub on wall transfers are an easy no fuss option that will give you a handpainted look.
If you want to skip the painting altogether, you're in luck! There are countless beautiful wallpaper murals featuring ocean scenes.
If some of the background painting techniques sounded like fun, but you are not up for the challenge of painting the details, there are many options. Look into the various wallpaper cutouts and stickers that are available. They can be applied to a matter of minutes, and they look great!
If you are feeling especially thrifty, you can even make your own! I know someone who made a beautiful Rainbow Fish mural in their bathroom, by cutting out fish from a story book!
I will have to take some pictures to post here, but until I get around to it, here are a few ocean mural pictures contributed to visitors to this website! Check them out for even more inspiration...
Pictures of Ocean Wall Murals Submitted by Our Readers!
Thelma from Oshawa, Ontario, painted this ocean mural scene for her little daughter while she was home on maternity leave. Don't you love how the mermaid castle is used in place of a headboard! I think her little girl will love it for many years to come...


This Little Mermaid mural was submitted by Rox from Romania. It features Ariel from the Disney movie, as Nemo and his dad swim along in the water.


This dolphin mural was submitted by William, a professional muralist from Stillwater, Oklahoma. Did you know that dolphins are a popular subject for ocean murals?


This is just a sample of the artwork submitted by our readers. Check out even more by visiting our mural show and tell gallery. Don't forget to submit a picture of your project when it's completed!