RV Murals - Road Tripping in Style!
If your favorite place to hang out sits on top of several wheels, then you just might be interested in RV murals! Life on the road doesn't mean that you have to leave your personal style at home...you can take it with you anywhere you go!

There are many different ways you can go about having a mural installed on your recreational vehicle or fifth wheel camper. You can hire a muralist (or paint it yourself), install weather-resistant vinyl murals or printed window films, or even purchase a vehicle wrap.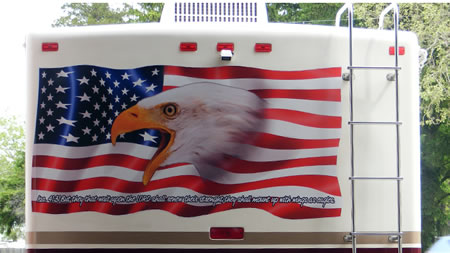 Hire a Muralist
You can hire a muralist to paint a custom scene on your RV, although tracking down someone with this type of painting experience may prove to be a little challenging (although not impossible!).
First, take a look at our directory to see if there is anyone in your area that does this type of work. If not, you may want to call around to your local auto body shops for a referral. Check your yellow pages or even take a look at your area Craigslist listings to find an artist with custom vehicle painting experience.
Vinyl Murals
A less expensive option is to install self-adhesive vinyl murals on the sides of your RV. There are many different pre-made styles available online, with prices that range from as little as fifty dollars to several hundred dollars, depending on dimensions and other customization options.
If you have a favorite photograph that you took during your journeys, you can have a digitally printed mural made from it, which you can then also install on your RV. When selecting a supplier, make sure that their artwork will hold up to life on the road. It will need to be laminated and weather-resistant, coated to resist fading from UV rays.
Don't forget the windows! Using printed window film, you can add privacy to the interior of your recreational vehicle or camper, while adding your personal style to the exterior. Like the vinyl RV murals, these printed window films are for the "do-it-yourselfers", requiring no special technical skills or equipment.
RV Wraps
Another option is to use an RV wrap. These are generally made from a specially printed film that is then professionally installed on the vehicle. This is the same technique that is used to display advertising on buses and cars. However, not all wraps are for commercial purposes. For example, camouflage and fire flame wraps are popular with truck and car owners.
Share Your RV Mural With Us!
Handpainted RV murals, vinyl and window films, and vehicle wraps - we want to see it all! Use the form below to submit pictures of your recreational vehicle or camper.