Painting Wall Murals - Freehand Method
Depending on your project, painting wall murals freehand may or may not be a good idea.
Abstract murals or murals composed of several small elements are just a couple examples where the freehand method can work. Also, a projector or drawing grid may not be necessary to draw basic geometric shapes.

For example, if you want to paint a mural of a house in your child's play room, masking tape and a level may be the only guides you need to draw a square for the house outline, a triangle for the roof, a rectangle for the door, and more squares or rectangles for the windows.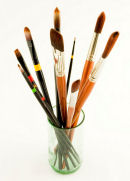 Using that same example, though, the freehand method may not be such a great idea if you want to surround the house with trees, add a friendly pet dog on the porch, and a driveway with a mailbox.
The more complicated the design, the more difficult it is to maintain proportion when you are drawing on large surfaces.
However, if you are confident with your artistic skills or feel that you can draw the mural on the wall without any special aids, by all means - go for it!
Related Articles
Transfer Techniques for Painting Wall Murals
From the projector method to stencil wall murals to paint by number kits, learn about the best transfer techniques.

Choosing the Right Paints & Brushes for Your Next Wall Mural Project
Down to earth advice for the creative homeowner - make your project go smoothly from start to finish.