Thanks for Visiting My Website!
A Little About Me...
I am "mom", that's who I am. At least, that is what I hear about 100 times a day from my two little guys. Their pictures are below - cute, aren't they?
If you have been clicking around this site for awhile, you probably will have guessed that I am not a mural artist.
But that's just the point - you don't have to be an artist to create wonderful wall murals in your home!
After my youngest son was born, I came across Wallies murals and cutouts. I thought that Wallies were such a great product, I started a home-based business selling them.
Although I wanted to expand my product line, I did not have the resources to purchase additional products or space to store them. I did receive a lot of e-mails from customers interested in other products:
"Do you sell custom phrases, or know where I can purchase them?"
"I saw a picture in a magazine of a painted life-sized urn filled with ivy. There's no way I can paint it myself. Do you know if there's something like that I can buy?"
"I just received the parrot mural you shipped to me and I love it! I'm hoping to transform my son's room into a jungle. Do you have any suggestions for other things I can use?"
Even though I had to limit my store to just selling Wallies, I didn't let that stop me. I decided to instead write about all those great products I wanted to sell (and then some!).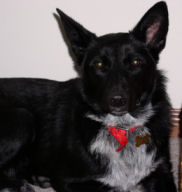 I would love to update this site every day. There are just so many great mural techniques and products out there, I can't write fast enough! However, with two energetic boys (three, if you count my husband!), one crazy pound puppy (there's a reason we call her Loco Lucy!), and all the other kids that come and go, it's a busy place!
I hope you will find something to help you with your project. If you have any ideas or suggestions for articles, I would love to hear from you, so make sure you contact me!
One Final Word...
Do you have a hobby or other interest that you would like to share with others? Have you ever considered building your own website? If so, let me know - I will be happy to share my experiences.
Believe it or not, it's not as hard as it looks. I still have trouble getting pictures off of my digital camera, but I can build a website! Who knew it could be this simple?
I look forward to hearing from you!