Vinyl Wall Murals
Personalize Your Space With Little Effort
One of the newest products on the home decorating scene are vinyl wall murals. They are popular for many reasons - they look great, can be easily applied almost anywhere, are easy to maintain and remove, and can be customized based on your personal style.
Not long ago, it was difficult to find anything other than words and phrases made with vinyl. However, these were so popular that many companies also started adding images to their product lines. Now, you can find styles suitable for any room in your home, whether it's your little one's nursery, your teen's retreat, or your kitchen and family room.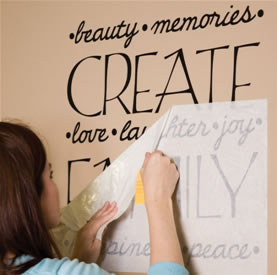 Whether you are looking for phrases or images, you will find most are made from just one or two solid colors. However, this too is even changing. For example, Wallies just recently added several vinyl wall murals to their product line. They do not look much different than their products made with wallpaper - however, all the hassle associated with applying and removing wallpaper has been eliminated, and they are also easier to keep clean.
Do It Yourself Options
Did you know you can make your own vinyl wall murals? That's right! If you scrapbook, you may already be privy to this knowledge, but if not, I'll tell you more...
If you take a walk through the scrapbook/paper crafting department of your local hobby store, there's a good chance you will see several different models of die cut machines. Many of these machines, such as Provo Craft's Cricut line, and the SLICE by Making Memories, have the capability of cutting through vinyl. In fact, you may even be able to find sheets of vinyl just waiting to be cut hanging nearby.
For most machines, you can make cutout shapes based on the dies or cartridges you purchase. These include letters, numbers, and shapes. For example, with the Cricut, you can even make cutout shapes of your kids' favorite licensed cartoon characters, such as SpongeBob, Elmo, TinkerBell and Mickey Mouse. Some die cut machines will also let you cut images and fonts that you download using your computer.
If you are interested in making your own vinyl wall murals, die cut machines definitely are the way to go. Personally, I highly recommend the Cricut Expression. It's easy to use, and has the capability to make cutouts up to 23-1/2 inches tall. An outstanding selection of cartridges is available for it, and you can use it to cut images and fonts downloaded to your computer using SCAL (Sure Cuts a Lot) software.
Applying and Removing Vinyl Wall Murals
You will want to follow the manufacturer's directions for application and removal. However, there are a couple of tips you should keep in mind:
Plan out where you want the mural placed. You may want to pencil in guidelines on the wall to visually aid you with placement.
Make sure the wall is clean and dry before application.
If the wall has been recently painted, make sure the paint has been given adequate time to cure. This information should be listed on the paint can - however, many vinyl wall mural manufacturers recommend two weeks.
You should also save the manufacturer's directions so that you know how to remove the design. As a general rule, it should peel off, and using a hair dryer to soften the adhesive will aid in this process.